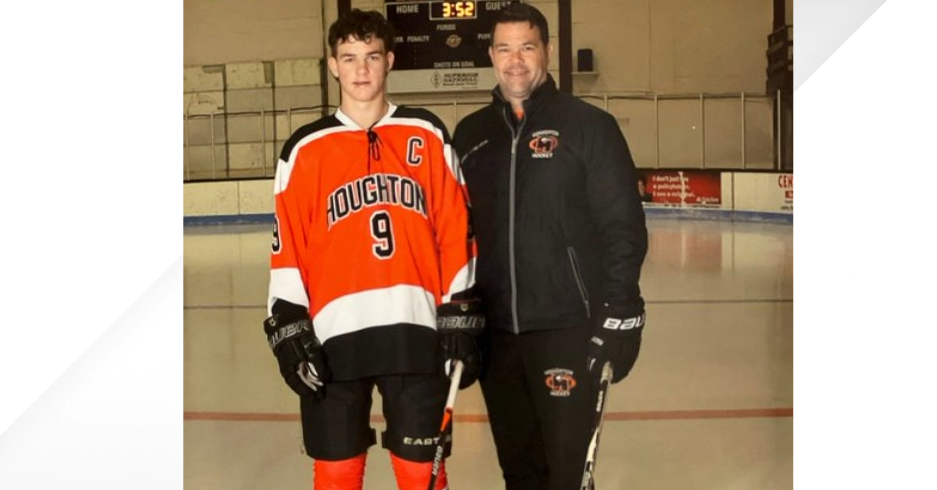 HOUGHTON, Mich. (WZMQ) – For the past 25 years, the name Markham has been entangled with the Houghton high school hockey program. 
Corey Markham has coached the team since the late 90s and for the past 4 seasons, his son Camden has broken records and led the team on the ice.
"As a dad, it was so much fun seeing [Camden] develop and get better and better every year," said Corey Markham.
This season was a strong one for the Gremlins, their 20-game win streak was the longest in school history, and the season was highlighted by a Region 17 championship win.
"[It was] one of the best seasons in Houghton history it was super fun to be a part of," added Camden Markham.
The Markhams not only dominated the copper country hockey scene this year but were recognized on the state level as well. Corey won the District 3 coach of the year and Camden was awarded Michigan's Mr.Hockey trophy, which goes to the best high school hockey player in the state.
"Getting the recognition at the end of the year made it super special, this of all the years is my favorite," remarked the elder Markham.
Camden said, at times it wasn't easy playing for his dad if a mistake was made at the rink he would hear about it at home, but if he had the chance he wouldn't change a thing.
"It's awesome to live under the same roof your always getting tips on how to be better on and off the ice," Camden Markham said about playing for his father.
Camden is now playing in the North American Hockey League in Wisconsin and Corey has just recently announced he is stepping down as the Houghton hockey coach. He says its time to focus on being a dad and enjoying time with his other kids.
"Im gonna continue to coach the golf team, but I'm gonna follow my kids and be a dad right now, I'm really looking forward to doing that," said Corey Markham.
Even though Corey is stepping away from coaching the hockey team, and Camden has played his last game for the Grelims, there are still 2 Houghton athletes wearing the black and orange and keeping the Markham name around.