REPUBLIC TOWNSHIP, Mich. (WZMQ) – Flooding has caused severe damage to counties throughout the UP as the melting season becomes more present. In Republic Township, homeowners have been commenting that the water levels are slowly decreasing. Water levels have been increasing across the Upper Peninsula and causing a lot of flood damage throughout the other townships, but homeowners in Republic Township have said the water levels are starting to go down.
"That warm weather came in so fast I mean it was a week and a half ago and I still had snowbanks," said Republic Township Homeowner Alanna Mingay.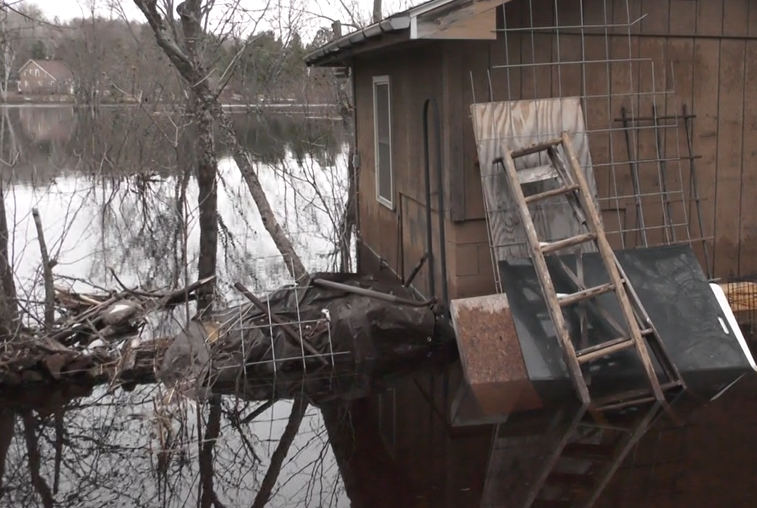 Alanna Mingay was surveying the damage on her property and the floodwaters forced her to make some decisions about the animals she normally houses in the outside shed. Mingay currently takes care of ducks, turkeys, chickens, and a dog in her home. "My choices were limited and so time and place I grabbed all the animals and put them in the house. I have some on the deck I have some on the porch and I have some actually inside the house," continued Mingay.
Mingay referenced the flooding in 2002 where water levels reached over a foot, and this year, it's just shy of breaking that. "We had rain and snow and ice and yea that was pretty wild when they measure at the bridge there, it was 12.8 and we hit 11.8," said Mingay.
Mingay says the water typically takes longer to rise, but they were unprepared for this year's rapid snowmelt.
"Sure you get the initial runoff of things here but the big runoff comes from the Peshekee and Lake Michigamme itself getting filled up and then flows down and so a lot of times after that really warm weather there's a delay of a few days"
Mingay will have to wait until the waters fully recede to assess the damage to her property
Click here for more information on the Marquette County Road Commission and below are links to more assistance on flood damage.
Flood Insurance