BIG BAY Mich. (WZMQ) – Big Bay's Harvest Fest ran throughout the weekend, celebrating the coming of fall.
Harvest Fest activities started on Friday evening when a welcome party was thrown in Perkins Park. The welcome party was filled with campers exited to enjoy the live music, free refreshments, and gorgeous night.
Saturday, Harvest Fest was home to the camp site decorating contest, and costume contests. Prizes were given out to the best decorated camp site, second best camp site, best costume ages 1-6, and best costume ages 7-14.
"It's just really wonderful," says Sven Gonstead, Recreation coordinator for Marquette County. "Everyone get's really into it and we decorate the park, along with the campers decorating the park, it just really turns into a magical place."
After the costume contest is over, and dusk starts to arrive, Harvest Fest prepares for trick or treating. Perkins Park makes all roads in the campground unavailable to vehicles, allowing campers and their families to enjoy trick or treating without the danger of cars.
Harvest Fest also made it a point to light the pathways that leads to uptown Big Bay. This year Harvest Fest coincided with Fall Fest located at Draver Park, Big Bay Stewardship Council and Powell Township Parks and Rec worked with organizers of Harvest Fest to make it easy for visitors to enjoy both Harvest and Fall Fest.
"The community is really working together to make it a wonderful day for everyone" says Gonstead. "When people come up here they have activities to do, they have a variety of thing they can choose to do."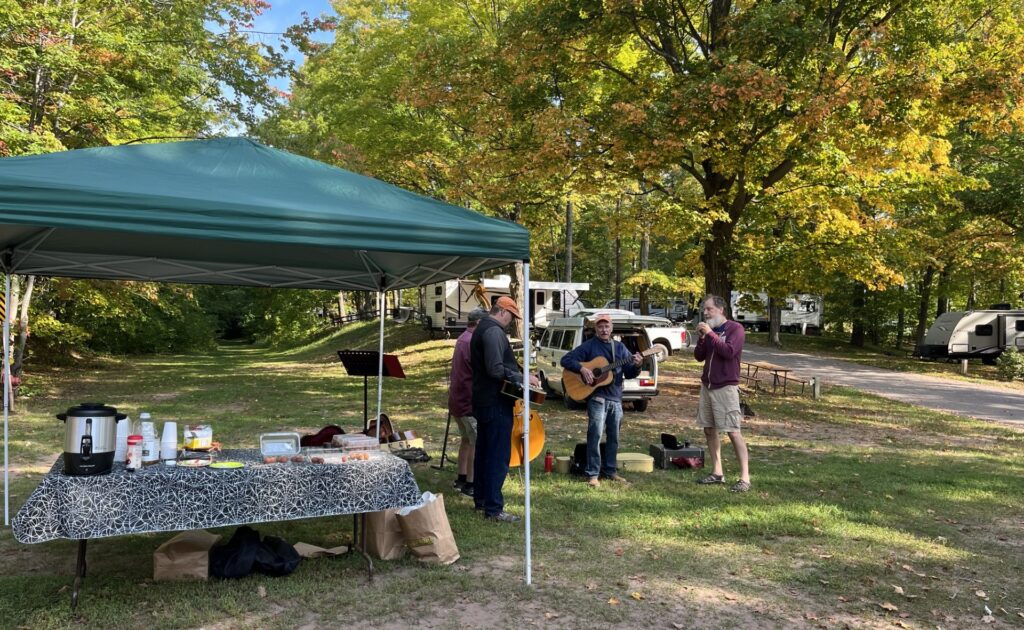 The weekend of fun concluded on Sunday morning with donuts and coffee from 9-11a.m. Perkins Park staff set up a tent filled with goodies, accompanied by some live blue grass music, free to any camper wanting to enjoy their morning.