ROCK, Mich. (WZMQ) – One of the Upper Peninsula's most popular corn mazes is officially open for the season.
Hayes Corn Maze in Rock is celebrating 22 years of fall fun.
"My husband and I have been doing farming for quite a few years and he is an architect," said owner Lenore Hayes. "We decided to put design and agriculture together, and that's how we came up with a corn maze."
Hayes says this season's crop is perfect for the maze.
"It's nice and tall," she said. "We have trails that are dead ends. It's just a real interesting maze this year."
Each year, a local business sponsors the corn maze and becomes part of the design. This year's main sponsor is Champion Glass & Countertops of Marquette.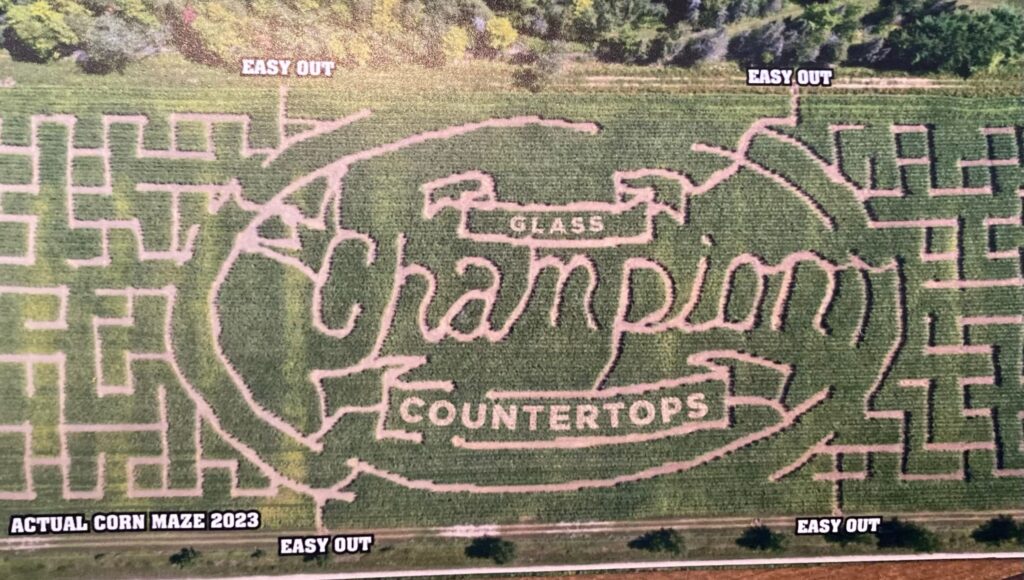 "They are an amazing organization that does wonderful work," Hayes said. "I always get a lot of support from our community. It's wonderful."
The maze is interactive. There are stations along the path with multiple choice quiz questions.
"You become a maze master by properly punching your ticket and trying to unscramble your ticket to get the proper word," Hayes said. "Once you get that mystery word, you drop it in the box, and we have a drawing at the end of the season for a cash prize."
Hayes is more than just a corn maze. There are plenty of activities for children and families throughout the property.
"We have our giant apple slingers, where you shoot apples at a boat that's floating in the water," said Hayes. "That is probably the coolest place on the farm. We have a lariat challenge, we've got Hay Mountain and a rope maze, pumpkin bowling, and duck races."
There is also a farm full of animals.
"We have goats and chickens and we have pigs and piglets," Hayes said. "We have frillback pigeons, peacocks, our red golden pheasant, horses, an alpaca, and of course there's always Mazey, our family dog."
On top of that, there is a simpler maze for kids, as well as a pumpkin patch.
"Our pumpkins are huge and they're plentiful," said Hayes. "That's why we're giving away five pounds of pumpkin free when you hand in your ticket at the ticket booth."
Hayes says the maze and other activities have become an essential autumn tradition for many throughout the Upper Peninsula.
"We get generations of people," she said. "We get a lot of families, college students, scouts, and schools. It's been 22 years of making memories, which is truly our business."
Hayes Corn Maze is open on Saturdays from 10:30 a.m. to 6:30 p.m. and Sundays from 12:30 p.m. to 6:30 p.m. Tuesday through Sunday, guests can make reservations for groups of 20 or more. The property has "corn-ference" room tents that are free to rent for parties.
Admission is $11.00. Kids under two will be admitted for free. Groups of 20 or more receive $1.00 discounts.
For more information on Hayes Corn Maze, visit their website or Facebook page.