ROCK, Mich. (WZMQ) – The sunflowers are in bloom at Hall Farm's in Rock, Michigan. The sunflower fields are a seasonal gem in The UP, the 60 acres of flowers bloom for just two to three weeks, but attract thousands of visitors.
Teressa Hall and her husband Dan started growing sunflowers in 2011, she said it started with just a few people asking to take graduation or engagement photos.
They decided to open the fields to the public in 2016, so that people could come see the flowers, get some pictures, and even pick a few.
Hall said that the first year there weren't any walking paths or viewing stands like there are now. In the past 7 years they've been able to make the farm more fun for visitors with the help of donations.
The Hall family grows Black Oil Sunflowers that they harvest in October, once people are done enjoying them, to make bird seed.
"They have to be really really dry, they're heads are sticky and they have to dry." Hall said. "They look- Well, they don't look real pretty when they're dry. I call them sad flowers."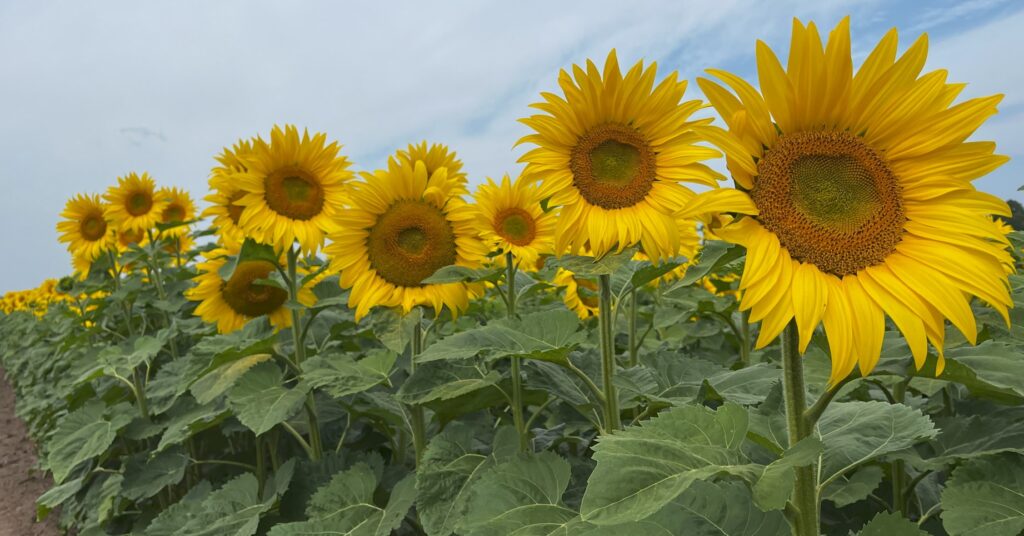 Hall says the dry summer and lack of rain had an impact on the way the flowers grew this year, but that the flowers are still blooming right on time.
"If you notice they're a little uneven this year, and that's because it was so dry." Hall explained. "Their germination wasn't the best, some germinated quickly and some decided they didn't want to show their heads yet so, that's why we have an unevenness in them this year."
Hall says the flowers should be blossoming until the end of August, but they'll be at their most beautiful once they reach full bloom this weekend.

Hall Farm's (2623 St. Nicholas 31st Rd ( co rd 430 ) Rock, MI) is open every day from 10 until 9 for about 2 to 3 weeks while the flowers are in bloom. The fields are free to the public, and it's $1 to cut a flower, or 6 for $5.
The Halls will be keeping an eye on the flowers, and will announce when they plan to close on their Facebook page: https://www.facebook.com/hallfarms.rockmichigan/