MARQETTE, Mich. (WZMQ) – Following the busy holiday weekend, Marquette businesses are saying customers have been enjoying the district. City police were anticipating keeping an eye out for an increase in trash disposal issues and public intoxication, but Captain James Finkbiner with Marquette Police said they've seen no real change in incidents since the start of the district.
"I think people are taking advantage of it and utilizing and enjoying it, but we aren't noticing any major problems as far as our end," Captain Finkbiner said. "You know, even the 4th of July holiday, with more tourists and people, it was quite busy in town here, we didn't notice any major problems or upticks."
Amanda Courchaine with Ore Dock Brewing Co. said people have been respectful of the rules in the brewery so far as well.
"People are pretty good with the rules," Courchaine said, "Staying in the district itself, you know, not taking a different establishment drink into our establishment."
The Downtown Development Authority asks that when you do buy your drink from a participating business, make sure you drink on designated sidewalks and parks downtown, properly dispose of cups after finishing, don't bring your drink into another business or outdoor dining area, and don't bring your own alcohol into the Social District.
The success of the district has been encouraging for other restaurants in the area. Seven more businesses have signed on and begun participating in the district since it started in June.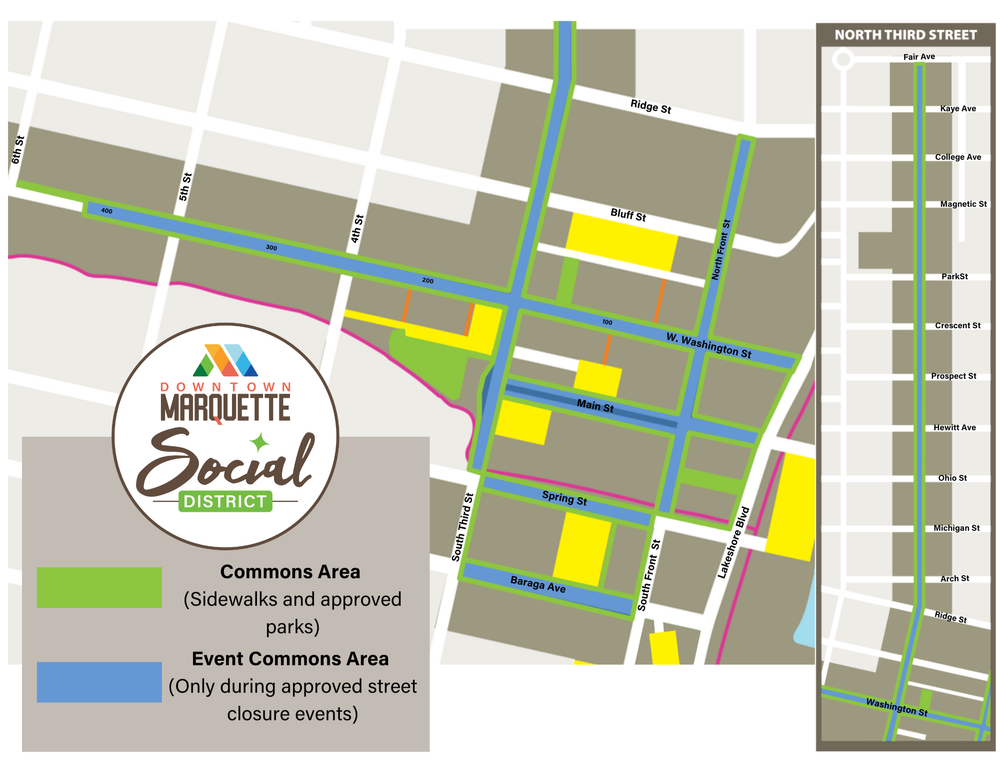 Participating Businesses
Blackrocks Brewery
Breakers Roadhouse
The Crib
Delft Bistro
Honorable Distillery
Iron Bay
Kognisjon Bryggeri
Landmark
Ore Dock Brewing Company
Remies
Superior Culture
Third Base Bar
Vangos
The Vierling Restaurant & Marquette Harbor Brewery
"I think more businesses will come on board," Captain Finkbiner said, "I think some of them needed to see how well things would be received. Hopefully people continue to take advantage of it, play by the rules, and enjoy the city in that way."
Finkbiner says The DDA and the participating businesses are doing a great job following the rules of the district, and keeping the sidewalks clean.
"We actually have people come in now pushing their strollers with their little ones or even with their dogs," Courchaine said. "They just pop in for a beer, they leave, and then sometimes they come back in a couple of hours for another beer to go."
Courchaine said so far they've just been letting people know they can take a drink to go as they leave. She says it was popular among tourists here for the 4th who could then go see the city.