ESCANABA, Mich. (WZMQ) – A Delta County family is fighting to get their daughter back on the Escanaba Speedway track, following an incident between the family and a board member.
Nine-year-old Aubrianna Mathieson races a micro sprint car at the Escanaba Speedway. At a pre-season practice in late May, her vehicle stalled. Her mother Heather says that's when a Speedway board member working on the track verbally assaulted Aubrianna.
"The track worker went up to her swearing, cussing, screaming at her and ran and grabbed the front end of her car and started yanking it, with her in it," said Heather.
Heather says Aubrianna became frightened and started screaming. She went home feeling "humiliated."
In the following days, Aubrianna's parents had a meeting with the Speedway Board. However, Heather says the board member in question did not attend.
The solution reached was for that board member to apologize to Aubrianna–although Heather says he did not–and for him to work on a corner of the track far from her.
"Come the first race, we pushed her car up to the starting point, and he was right there," Heather said.
According to Heather, another track worker told Aubrianna's father, Eric, to speak with the Speedway president. She says Eric expressed he was upset that the board did not keep its word, and he thought that was the end of it.
"A couple days later, he got a letter in the mail saying he was kicked out because the president felt threatened for his life by her dad's words," said Heather.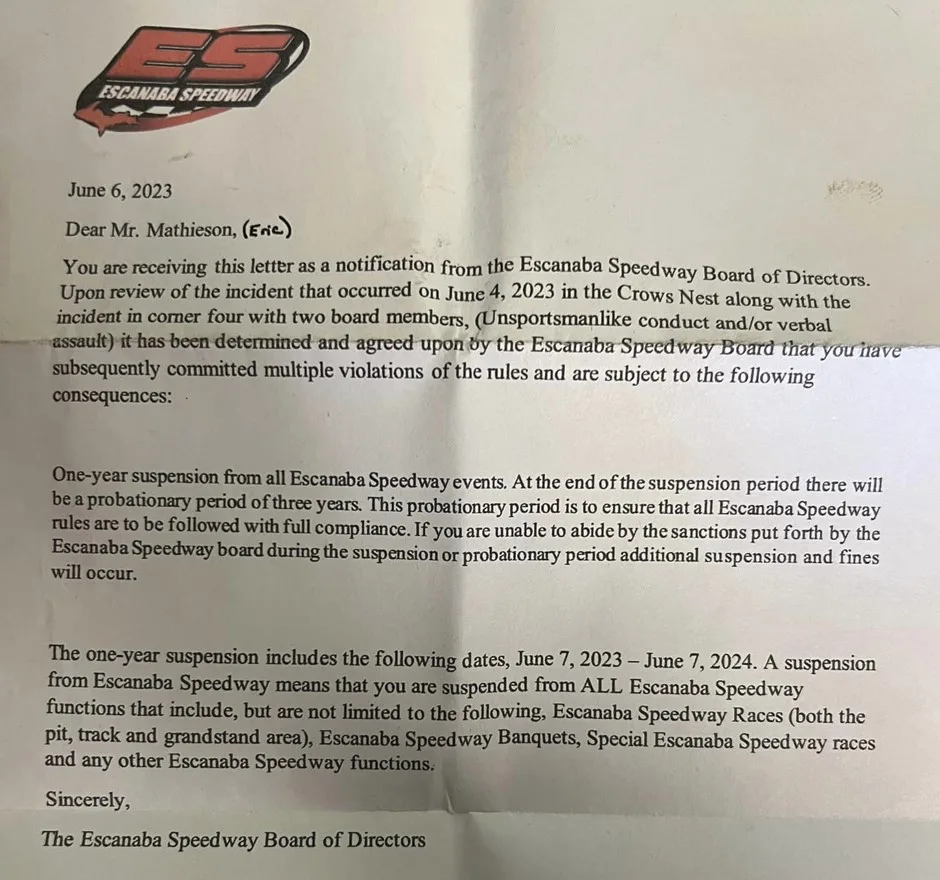 Heather says with Eric banned from the Speedway grounds, Aubrianna has also been kicked out by default.
"She's nine, so she needs her pit crew, which is her dad," Heather said. "So she cannot race until her dad's situation is resolved."
When asked by WZMQ 19 News for a statement on the situation, an Escanaba Speedway representative said the organization's only statement is that "Aubrianna is welcome at the track and that only her father was suspended for a year."
Now, Aubrianna's family is seeking to get her back behind the wheel.
Heather says "higher officials," including law enforcement, are getting involved to work out a solution. While she hopes her daughter can start racing again in a few weeks so she does not miss much more of the season, Heather wishes the situation had not happened at all.
"We tried to resolve it on our own and they didn't follow through with it," she said. "I don't think they expected us to push it as far as we did, but we didn't expect them to betray Aubri the way that they did."
WZMQ 19 News will update this story as it develops.