ESCANABA, Mich. (WZMQ) – A traveling art exhibit highlighting the work of Indigenous women has made its way to Escanaba.
"Vitality and Continuity: Art in the Experiences of Anishinaabe, Inuit, and Pueblo Women" debuted in the Bonifas Arts Center on Tuesday, May 30. The Bonifas is the second of three stops for the exhibit, which features artwork from institutions throughout Michigan.
"The whole point of this exhibit to start with was to bring artwork from all of our collections that wouldn't normally have exposure to bring them out to light," said Bonifas gallery director Kate Oman.
The exhibit is funded by the Art Bridges Initiative.
"Their main goal is to bring artwork made by Americans to the American people," Oman said. "This has been about two years in the making, so we're excited."
Some pieces are interactive, with a number you can dial to learn more about them. According to Oman, others offer plenty of information through the art itself.
"There's a story within this piece," Oman said of Potty Training on Dixon Island by Lois Beardslee, pictured below. "When you first glance at it, you just see a lady washing something in the water, but when you get closer you actually see the oral traditions of stories being told, because there's a lot of hidden different animals and figures within the piece."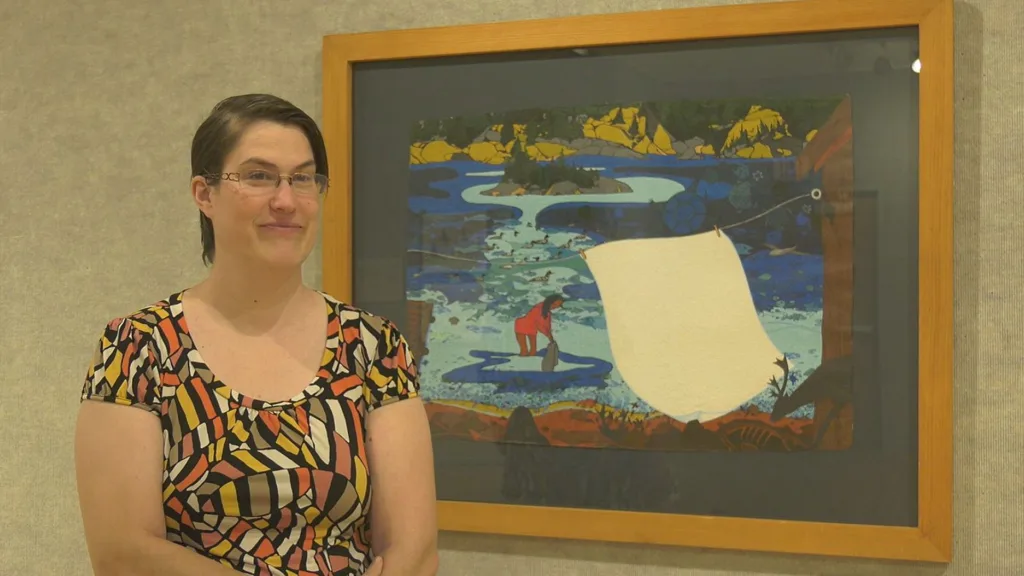 The exhibit is divided into sections, including a religious and spiritual section. Some of the pieces describe the history of abuse and murder of Indigenous children at boarding schools in the U.S. and Canada. The information panel on one of these pieces includes a QR code for trauma resources and more additional information about the boarding schools.
Another section is "Art Through the Ages." It features recent pieces by artists who had to adapt their methods to environmental changes.
"For example, we have a basket by Kelly Church that's made with vinyl instead of the traditional ash, given the emerald borer ash beetle epidemic that's taking out all of our local ash trees," said Oman.
From historical hardships to the beauty of generational traditions, Oman looks forward to showcasing Anishinaabe, Inuit, and Pueblo history in Escanaba.
"That's the beginning roots of who we were," she said. "As time has proceeded post-contact, there has been a lot of differences, but their spirituality and their continuation of tradition has carried through through all of these centuries."
The "Vitality and Continuity" exhibit is free and open now through September 10. It will then travel to the Marshall M. Fredericks Sculpture Museum in Grand Rapids.
On Friday, June 2, the Bonifas will host a free public reception from 6:00 – 8:00 p.m. Artist Kelly Church will be in attendance.
The Bonifas is offering several events and classes that coincide with the "Vitality and Continuity" exhibit during its stay in the gallery. Click here for a list of events.